Building a new house in the open countryside is virtually impossible. The only glimmer of hope: Para 55 of the National Planning Policy Framework (NPPF). Para 55 bypasses the stringent planning legislation by permitting only the building of new houses considered to be of "exceptional quality or innovative design". This is not a lazy legislative loophole. It is notoriously difficult to meet the criteria and there is no template, or formula for success (copying does not equal innovative!)
So, when, on the 28th of January, Rugby Borough Council granted NPPF Para 55 permission to build a new Warwickshire country house the mood in both Colvin & Moggridge and Adams Architecture offices was nothing short of celebratory.
It was the decision to place the new house within a derelict railway embankment that captured the imagination of both the Rugby Borough Council Planners and the Midlands design review panel, MADE: "The decision to site the house so that it completes the line of the disused railway embankment is a bold and innovative one. The result will be unique and some onlookers may be disturbed by it, but that is what makes it interesting".
Landscape must never be an afterthought when it comes successfully securing NPPF Para 55 permission and the bold placement of this house successfully marries both landscape and architecture in the following unique ways:
Positive use of the embankment to ground the house in the landscape, the house becomes an integral part of an existing linear landscape feature, and is fully assimilated into the existing woodland skyline.
The house shelters within the embankment utilizing the strong east and west axis along the railway corridor in views from the first floor rooms.
The house enjoys views across the landscape to both sides of the embankment, with fine open views to the south to the rising ground of Bush Hill, and restricted view over the newly enclosed paddocks to the north.
All out buildings, drives and services are kept to the north of the embankment, and are largely hidden from view from the wider landscape surrounding the property.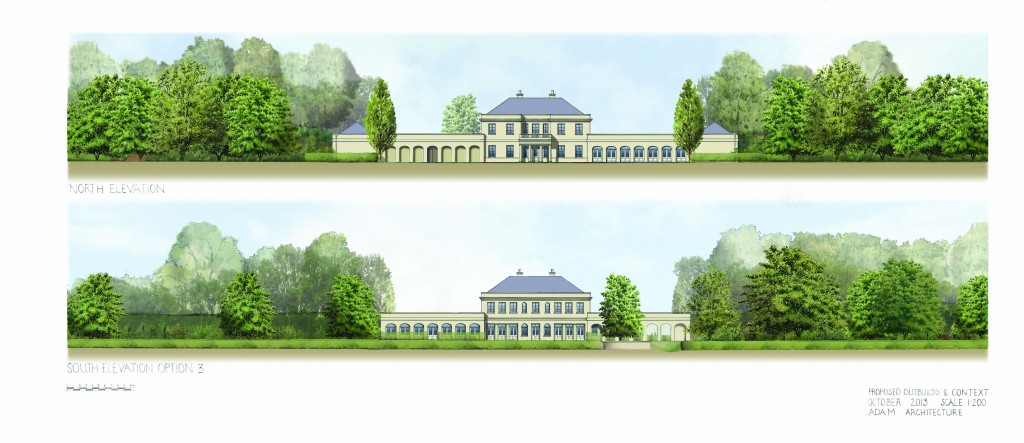 The 877 sq m house was designed by Robert Adams himself and, somewhat controversially for Para 55, is classical, rather than contemporary in its country house design. The house itself has strong connections to the landscape within which it sits. Its arched wings physically connect the house to the embankment and it is also possible to walk down the line of the old rail track and enter the house at first floor level.
Robert Adams comments: "A left-over and forgotten piece of industrial heritage has become part of a wider vision and given new meaning by the addition of a striking house."
Mark Darwent comments: "The house nestles comfortably in the wooded embankment enjoying fine open views to both north and south, and uniquely from the first floor rooms, a long, linear view east and west along the old railway-line".
Social Share